The Berger's Clouded Yellow was identified as a distinct species from the Pale Clouded Yellow in 1945 as described in Berger (1948) and is named after the Belgian entomologist, L.A. Berger, who made this discovery. This species is an extremely rare immigrant to the British Isles and is not seen in some years at all. It would appear that none of the stages is able to survive the British winter, although individuals seen near Folkestone in May 1948 were believed to have survived a mild winter. Although the species was first recognised in 1945, subsequent examination of historical collections have turned up around 50 specimens, the earliest of which is an individual taken in Folkestone in 1875. Relatively good numbers were seen each year from 1947 to 1949. However, such numbers have not been recorded since and this species is now considered one of our rarest migrants. This species is a rare migrant to the British Isles, with most historic specimens coming from the south coast of England, especially from West Kent and East Kent.
Colias alfacariensis
This species was first defined in Ribbe (1905) as shown here (type locality: Alfacar, Spain).
Male
Photo © Vincent Baudraz

Female
Photo © Vincent Baudraz
No conservation action is relevant for this species.
The haunts of this butterfly are similar to the Clouded Yellow, which includes coastal cliffs and open downland.
This species is a rare migrant to the British Isles.
In the British Isles, this species may be seen as early as May or June, but is normally seen in August or early September. The latest-ever sighting of this scarce species was at Glynde, East Sussex on 27th October 1945.
As for the Pale Clouded Yellow, this butterfly is probably overlooked given its similarity to the much commoner Clouded Yellow, especially the pale helice form of the female Clouded Yellow. Even more challenging is the distinction with the equally-scarce Pale Clouded Yellow. Even experienced Lepidopterists are unable to tell these two species apart, unless they have been reared from larvae, when there is an obvious difference.
Description of nectar sources to be completed
Photo © Vincent Baudraz
23-May-2014

Photo © Vincent Baudraz
03-Oct-2013

Photo © Vincent Baudraz
17-Sep-2012

Photo © Vincent Baudraz
31-May-2012

Photo © Vincent Baudraz
17-Sep-2012
Eggs are laid singly on the leaves of Horseshoe Vetch, the sole foodplant in the British Isles (Crown Vetch, Coronilla varia is also used on the continent). They are a pale yellow when first laid, gradually becoming pink and, eventually, orange prior to hatching. The eggs hatch in 7 to 10 days.
Early-instar larvae live low down on the foodplant although late-instar larvae are sun-lovers and feed quite openly on the leaves of the foodplant. The larva has a yellow stripe running down each side of the body, allowing it to be distinguished from other Colias species.
The primary larval foodplant is Horseshoe Vetch (Hippocrepis comosa).
Photo © Pete Eeles
Pale Clouded Yellow with Berger's Clouded Yellow
30-Oct-2009
The length of this stage is highly variable, ranging from just over a week to a little under 3 weeks, depending on temperature.
Of the three species of Clouded Yellow found in the British Isles, the Clouded Yellow is both the commonest and the easiest to identify. When in flight, the orange appearance of the Clouded Yellow is unlike any other British butterfly. When settled, the lemon-coloured underside of the Clouded Yellow allows us to distinguish this species from Berger's Clouded Yellow which has a much paler underside. This diagnostic holds true even in the helice form of female Clouded Yellow where the orange colouring is replaced by a creamy white.
1. Clouded Yellow 2. Clouded Yellow (f. helice)
3. Berger's Clouded Yellow (male) 4. Berger's Clouded Yellow (female)
Distinguishing Berger's Clouded Yellow and Pale Clouded Yellow is not at all easy and the identity of a given individual can only be reliably determined if it has been raised from the larval stage when the difference between these two species is obvious. However, there are some general rules of thumb that can be applied to the adults and a combination of these can give an indication of the species one way or the other. Unfortunately, all of these diagnostics are comparitive and, unless you are familiar with both species, can be difficult to judge with any certainly. The first diagnostic is with respect to wing shape, where the Pale Clouded Yellow has a more pointed apex to the forewing than that of Berger's Clouded Yellow. The other diagnostics are only applicable if the upperside is visible. Given that all of the clouded yellows settle with their wings closed, the only way to get a good view of the upperside is to catch the individual in order to examine it (which should not be attempted unless you are certain you won't harm the individual). The second diagnostic is that the orange spot found on the upperside of the hindwing is brighter in the Berger's Clouded Yellow than the Pale Clouded Yellow. The final diagnostic concerns the dusting of grey scales found on the forewing upperside next to the body. This patch of grey scales is a more-extensive in the Pale Clouded Yellow than Berger's Clouded Yellow.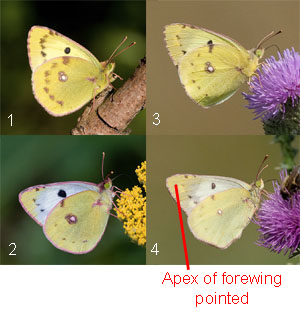 1. Berger's Clouded Yellow (male) 2. Berger's Clouded Yellow (female)
3. Pale Clouded Yellow (male) 4. Pale Clouded Yellow (female)
The following links provide additional information on this butterfly.
The species description provided here references the following publications:
Berger (1948)
Berger, L.A. (1948) A Colias New to Britain. The Entomologist.
Duponchel (1835)
Duponchel, P.A.J. (1835) Histoire naturelle des lépidoptères ou papillons de France, par M. J.-B. Godart. Continuée par P.-A.-J. Duponchel. Diurnes. Supplément aux tomes premier et deuxième.
Fabricius (1807)
Fabricius, J.C. (1807) Magazin für Insektenkunde, herausgegeben von Karl Illiger.
Ribbe (1905)
Ribbe, C. (1905) Einige neue Formen von Schmetterlingen aus Andalusien. Societas entomologica.
Swainson (1827)
Swainson, W. (1827) A Sketch of the Natural Affinities of the Lepidoptera Diurna of Latreille. The Philosophical magazine : or Annals of chemistry, mathematics, astronomy, natural history and general science.