Introduction
The Pale Clouded Yellow is an extremely rare immigrant to the British Isles, and was first recognised as occurring in England in the late 18th century. Historically, this species was considered to be an irregular migrant that could be relatively-common in some years but not seen at all in others. Between 1826 and 1950 there were 8,500 records, with over 2,000 records in 1900. Good numbers were also seen each year from 1945 to 1949. However, such numbers have not been recorded since and this species is now considered one of our rarest migrants. This species has been recorded mainly in the south of England, the south of Ireland and the Channel Islands. However, individuals have been found as far north as Cumbria and even Scotland. In 1947 an individual was found in the Inner Hebrides. Those that reach our shores are believed to have come from northern France or central Europe.
Colias hyale
This species was first defined in Linnaeus (1758) as shown here (type locality: Europe, Africa).
Male
Photo © Vincent Baudraz

Female
Photo © Vincent Baudraz
History
The table below shows a chronology of vernacular names attributed to this species. Any qualification of the name (e.g. male, female) is shown in brackets after the name.
Conservation Status
No conservation action is relevant for this species.
Habitat
The haunts of this butterfly are similar to the Clouded Yellow, which includes coastal cliffs, open downland, and fields containing Lucerne or Clover, the larval food plants.
Distribution
| | | |
| --- | --- | --- |
| | | This species is a rare migrant to the British Isles. |
Life Cycle
In the British Isles, this species may be seen as early as May or June, but is normally seen in August or early September. Early migrants are known to breed and individuals seen later in the year will therefore be a combination of the offspring from these migrants, as well as new immigrants from the continent. In good years, this species may produce up to 3 generations. It would appear that this species is unable to survive the British winter, although individuals seen in 1948 are believed to have survived a mild winter.
Imago
This fast-flying butterfly is probably overlooked given its similarity to the more-common Clouded Yellow, especially the pale helice form of the female Clouded Yellow. Even more challenging is the distinction with the equally-scarce Berger's Clouded Yellow. Even experienced Lepidopterists are unable to tell these two species apart, unless they have been reared from larvae, when the difference between the two species is obvious.
Description to be completed.
Colias hyale
Photo © Vincent Baudraz
09-Sep-2012

Photo © Vincent Baudraz
02-Oct-2012

Photo © Vincent Baudraz
10-Sep-2012

Photo © Vincent Baudraz
02-Oct-2012
Ovum
Eggs are laid singly on leaves of the foodplant. They are extremely pale when first laid, but gradually turn deep orange, and purple before hatching. Eggs hatch after around 10 days.
Larva
In favourable conditions, larvae can feed up rapidly. Those that do not produce the next generation enter hibernation, curled up in dry leaves, and also change colour from a light green to a dull olive, reverted back to light green after hibernation. However, it would appear that the larva is unable to survive the winter in the British Isles. The larva goes through 5 moults in total and this stage lasts about a month for the summer brood.
The primary larval foodplants are Clovers (various) (Trifolium spp.) and Lucerne (Medicago sativa).
Photo © Pete Eeles
Pale Clouded Yellow with Berger's Clouded Yellow
30-Oct-2009
1st Instar
Description to be completed.
2nd Instar
Description to be completed.
3rd Instar
Description to be completed.
4th Instar
Description to be completed.
5th Instar
Description to be completed.
Pupa
The pupa is attached to a plant stem or leaf by a silk girdle and the cremaster. This stage lasts around 2 weeks.
Aberrations
Description to be completed.
Click here to see the aberration descriptions and images for this species.
Similar Species
Distinguishing Berger's Clouded Yellow and Pale Clouded Yellow is not at all easy and the identity of a given individual can only be reliably determined if it has been raised from the larval stage when the difference between these two species is obvious. However, there are some general rules of thumb that can be applied to the adults and a combination of these can give an indication of the species one way or the other. Unfortunately, all of these diagnostics are comparitive and, unless you are familiar with both species, can be difficult to judge with any certainly. The first diagnostic is with respect to wing shape, where the Pale Clouded Yellow has a more pointed apex to the forewing than that of Berger's Clouded Yellow. The other diagnostics are only applicable if the upperside is visible. Given that all of the clouded yellows settle with their wings closed, the only way to get a good view of the upperside is to catch the individual in order to examine it (which should not be attempted unless you are certain you won't harm the individual). The second diagnostic is that the orange spot found on the upperside of the hindwing is brighter in the Berger's Clouded Yellow than the Pale Clouded Yellow. The final diagnostic concerns the dusting of grey scales found on the forewing upperside next to the body. This patch of grey scales is a more-extensive in the Pale Clouded Yellow than Berger's Clouded Yellow.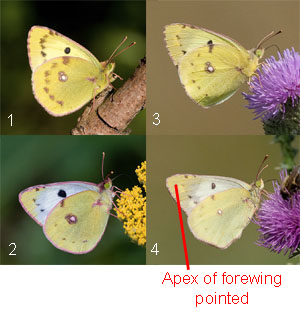 1. Berger's Clouded Yellow (male) 2. Berger's Clouded Yellow (female)
3. Pale Clouded Yellow (male) 4. Pale Clouded Yellow (female)
Of the three species of Clouded Yellow found in the British Isles, the Clouded Yellow is both the commonest and the easiest to identify. When in flight, the orange appearance of the Clouded Yellow is unlike any other British butterfly. When settled, the lemon-coloured underside of the Clouded Yellow allows us to distinguish this species from Pale Clouded Yellow which has a much paler underside. This diagnostic holds true even in the helice form of female Clouded Yellow where the orange colouring is replaced by a creamy white.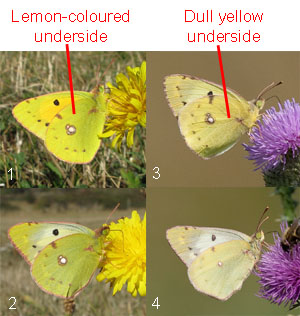 1. Clouded Yellow 2. Clouded Yellow (f. helice)
3. Pale Clouded Yellow (male) 4. Pale Clouded Yellow (female)
Videos
Links
The following links provide additional information on this butterfly.
References
The species description provided here references the following publications:
| Reference | Details |
| --- | --- |
| Fabricius (1807) | Fabricius, J.C. (1807) Magazin für Insektenkunde, herausgegeben von Karl Illiger. |
| Harris (1775b) | Harris, M. (1775) The English Lepidoptera: or, The Aurelian's Pocket Companion. |
| Haworth (1803) | Haworth, A.H. (1803) Lepidoptera Britannica. |
| Jermyn (1824) | Jermyn, L. (1824) The Butterfly Collector's Vade Mecum: or a Synoptical Table of English Butterflies. |
| Lewin (1795) | Lewin, W. (1795) The Papilios of Great Britain. |
| Linnaeus (1758) | Linnaeus, C. (1758) Systema Naturae. Edition 10. |
| Rennie (1832) | Rennie, J. (1832) A conspectus of the butterflies and moths found in Britain, with their English and systematic names, times of appearances, sizes, colours, their caterpillars, and various localities. |
| Swainson (1820) | Swainson, W. (1820) Zoological illustrations, or Original figures and descriptions of new, rare, or interesting animals : selected chiefly from the classes of ornithology, entomology, and conchology, and arranged on the principles of Cuvier and other modern zoologists (Vol.1). |
| Swainson (1827) | Swainson, W. (1827) A Sketch of the Natural Affinities of the Lepidoptera Diurna of Latreille. The Philosophical magazine : or Annals of chemistry, mathematics, astronomy, natural history and general science. |