Introduction
Two specimens of the Fiery Skipper, a butterfly native to the Americas, were caught by a Mr. W. Raddon from a location near Barnstaple, Devon. It is thought the butterflies were transported by ship in one of the immature stages. Stephens (1827) subsequently describes and illustrates the species in volume 1 of Illustrations of British Entomology; or, A synopsis of indigenous insects: containing their generic and specific distinctions where, using the scientific name Pamphila Bucephalus, he writes:
"Taken in the neighbourhood of Barnstaple in Devonshire." - W. Raddon, Esq., who possessed two specimens of the insect, which he assures me were captured by himself in the above locality several years since. I have therefore on his testimony admitted the species; but I cannot avoid surmising that its origin is questionable, and that the specimens above alluded to were probably imported in one of their earlier states, among the timber or other stores which Mr. Raddon acquaints me came direct from the North American continent to Barnstaple. I am induced to say thus much from the circumstance of the section of the genus to which this insect belongs being without any other exception exclusively found in America; but it is nevertheless possible that the eastern hrait of the group may extend to the west of Europe; at all events it is necessary for me to notice the communication; and I have also, through the kindness of Mr. Raddon, given a figure of the insect, as it appears to be a nondescript, in order to enable others to recognise it, should they be fortunate enough to ascertain any thing further relative to the real origin of the species; but for my sentiments respecting the admission of similar species into the Fauna of any country, I must refer to the observations subjoined to Deilephila Celerio, and here express my opinion that the present insect is an imported species and not an aboriginal native of Britain.
Emmet (1990) elaborates on date of capture, suggesting that it was "about 1820", but gives no explanation for this conclusion.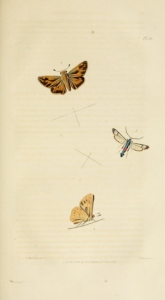 Illustrations of British Entomology, Volume 1, Plate 10
Hylephila phyleus
This species was first defined in Drury (1773a) as shown here and as shown in this plate (type locality: Antigua).
History
Description to be completed.
Conservation Status
No conservation action is relevant for this species.
Habitat
Description to be completed.
Distribution
| | | |
| --- | --- | --- |
| | | This species is considered an adventive, which is a species which arrives in the British Isles with the direct assistance of an external vector, without which it would not be present. Adventives are species that one would not expect to find in this country, either through inadvertent migration or through any other natural means of dispersal, with the exception perhaps of the most extreme meteorological event or possibly the transportation of a stage in the life cycle in a highly unlikely but natural means (e.g. an ovum or larva being transported upon the foot, bill, or plumage of a migratory bird). |
Life Cycle
Description to be completed.
Imago
Description to be completed.
Description to be completed.
Hylephila phyleus
Ovum
Description to be completed.
Larva
Description to be completed.
Description to be completed.
Pupa
Description to be completed.
Aberrations
Description to be completed.
Click here to see the aberration descriptions and images for this species.
Similar Species
No similar species found.
Videos
No videos are currently available for this species.
Links
No links are currently defined.
References
The species description provided here references the following publications: