Introduction
The Glanville Fritillary is named after Lady Eleanor Glanville, a 17th century Lepidopterist who discovered this species in Lincolnshire. After her death, one of her sons contested her will on the grounds of lunacy, as eloquently described by Moses Harris in "The Aurelian" in 1766: "This Fly took its Name from the ingenious Lady Glanvil, whose Memory had like to have suffered for her Curiosity. Some Relations that was disappointed by her Will, attempted to let it aside by Acts of Lunacy, for they suggested that none but those who were deprived of their Senses, would go in Pursuit of Butterflies". This butterfly was formerly found in many colonies in south-east England as far north as Lincolnshire, although it is at the northern limit of its range in the British Isles. Today it is found mainly on the south coast of the Isle of Wight, with the occasional colony, typically short-lived, appearing on the South Hampshire coast. There is also an unauthorised introduction in North Somerset. This butterfly is also found on Guernsey and Alderney in the Channel Islands. This butterfly forms discrete colonies with little interchange between them. However, the odd stray will turn up several miles from any known colony.
Melitaea cinxia
This species was first defined in Linnaeus (1758) as shown here (type locality: Sweden).
History
The table below shows a chronology of vernacular names attributed to this species. Any qualification of the name (e.g. male, female) is shown in brackets after the name.
Conservation Status
The colonies found in the British Isles, where this species is at the limit of its northern range, are considered relatively-stable. However, this butterfly is vulnerable to improvements to its coastal habitats and so it is a species of conservation concern.
UK BAP Status
Occurrence Change
1976-2014 (%)
Abundance Change
1976-2014 (%)
Occurrence Change
2005-2014 (%)
Abundance Change
2005-2014 (%)
Priority Species
Click here to access the Biodiversity Action Plan (BAP) for this species.

| | |
| --- | --- |
| | -66 |

| | |
| --- | --- |
| | -42 |

| | |
| --- | --- |
| | +10 |

| | |
| --- | --- |
| | -88 |
The table above shows the occurrence (distribution) and abundance (population) trends, using information from The State of the UK's Butterflies 2015 (Fox, 2015). Any UK BAP status is taken from the UK Biodiversity Action Plan (UK BAP) (2007 review).
Habitat
This species is primarily found in locations where regular disturbance of the ground allows the foodplant to grow and flourish, as is the case in coastal areas where there are frequent cliff falls. This allows the butterfly to move to new areas as the existing habitat becomes overgrown.
Distribution
| | | |
| --- | --- | --- |
| | | Click here to see the distribution of this species or here to see the distribution of this species together with specific site information overlaid. |
Life Cycle
Adults emerge in the second half of May, reaching a peak at the end of the month and at the start of June. There is typically one generation each year but in good years, when there has been a particularly-early emergence that starts as early as the end of April, there may be a partial second brood that emerges in August.
The chart(s) above have been correlated with the phenology plot below, taken from the UK Butterfly Monitoring Scheme. The blue line gives average counts over the full data set from 1976 to date, and the red line gives the average for the last year.
Imago
This is a sun-loving butterfly, being active only in bright sunshine. Like most fritillaries, it is difficult to follow as it flies with a series of rapid wing beats followed by a short glide. Both sexes are avid nectar feeders, Thrift and Bird's-foot Trefoil being particular favourites. The adults roost, often communally, on flower heads of various grasses.
The male is the most conspicuous of the two sexes, as it patrols the breeding grounds, investigating any brown object in the hope of finding a less-conspicuous virgin female in the vegetation. Even while mating the pair may remain active, flying between shrubs and even nectaring.
The female takes great care when choosing a site in which to lay her batch of eggs. Favoured sites are sheltered and warm, and where relatively-young foodplant grows vigorously with plenty of bare ground around.
Adults feed primarily on Bird's-foot Trefoil (Lotus corniculatus), Dandelion (Taraxacum agg.), Hawkweeds (Hieracium/Hypochoeris) and Thrift (Armeria spp.).
Melitaea cinxia
Ovum
The yellow eggs are laid in large and untidy batches of between 50 and 200 on the underside of a leaf of the foodplant. This stage lasts between 2 and 3 weeks.
Larva
After hatching, the gregarious larvae spin a silk web over the foodplant in which they live and feed, and on which they bask. After the 4th moult, the larvae build a tent in which to hibernate, usually formed low down in vegetation. They emerge in the spring and only feed during periods of sun; in dull weather they remain motionless.
The larvae are unmistakable, their black bodies contrasting sharply with their dark red heads. They can also be extremely conspicuous when basking or feeding together - forming a black mass against their background. As for several other species, the larvae will instantly roll into a ball when disturbed, dropping deep into the undergrowth. Mature larvae leave the communal web and disperse to find fresh foodplant on which to feed. They are voracious feeders and a group can quickly decimate an entire plant. As a result, starvation of the larvae can be a real threat to this species. There are 6 moults in total.
The primary larval foodplant is Ribwort Plantain (Plantago lanceolata).
1st Instar
Description to be completed.
2nd Instar
Description to be completed.
3rd Instar
Description to be completed.
4th Instar
Description to be completed.
5th Instar
Description to be completed.
6th Instar
Description to be completed.
7th Instar
Description to be completed.
Pupa
The pupa is shiny and dark brown, with a series of orange spots running down its back. It is formed head down, attached by the cremaster, in a loose shelter formed deep in vegetation or in a rock crevice, where several pupa may be found together. This stage lasts around 3 weeks.
Aberrations
Description to be completed.
Click here to see the aberration descriptions and images for this species.
Similar Species
The Glanville Fritillary and Heath Fritillary are easily distinguished in the British Isles since the Glanville Fritillary is generally only found on the Isle of Wight, with a small colony on the mainland, where Heath Fritillary do not occur. Where these two species do occur together on the continent, they are most easily distinguished from their undersides. The Glanville Fritillary has several spots on the underside that are not present in the Heath Fritillary.
Glanville Fritillary (left) and Heath Fritillary (right)
The spotting is also a distinguishing feature when looking at the upperside, where the Glanville Fritillary has spots on the upperside of the hindwing that are absent in the Heath Fritillary.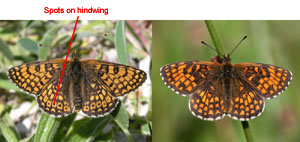 Glanville Fritillary (left) and Heath Fritillary (right)
Videos
Links
The following links provide additional information on this butterfly.
References
The species description provided here references the following publications:
| Reference | Details |
| --- | --- |
| Dutfield (1748-1749) | Dutfield, J. (1748-1749) A new and complete natural history of English moths and butterflies. |
| Fabricius (1807) | Fabricius, J.C. (1807) Magazin für Insektenkunde, herausgegeben von Karl Illiger. |
| Harris (1766) | Harris, M. (1766) The Aurelian. Edition 1. |
| Haworth (1803) | Haworth, A.H. (1803) Lepidoptera Britannica. |
| Linnaeus (1758) | Linnaeus, C. (1758) Systema Naturae. Edition 10. |
| Newman (1871) | Newman, E. (1871) An Illustrated Natural History of British Butterflies. |
| Petiver (1702-1706) | Petiver, J. (1702-1706) Gazophylacii naturae et artis decas prima. |
| Petiver (1717) | Petiver, J. (1717) Papilionum Britanniae Icones. |
| Rafinesque (1815) | Rafinesque, C.S. (1815) Analyse de la nature ou Tableau de l'univers et des corps organisés. |
| Wilkes (1749) | Wilkes, B. (1749) The English moths and butterflies: together with the plants, flowers and fruits whereon they feed, and are usually found. |