Introduction
The Heath Fritillary is one of our rarest butterflies and was considered to be on the brink of extinction in the late 1970s. Strange as it may sound, the extinction of the Large Blue in 1979 was to work in favour of this species, since the shock felt by many entomologists resulted in a renewed effort to conserve the Heath Fritillary. This required detailed knowledge of this butterfly's requirements and, as a result of research conducted by Martin Warren, appropriate habitat management plans were put into effect that saved this butterfly from extinction.
This butterfly is confined to a small number of sites in Somerset, Devon and Cornwall in south-west England, and in Kent in south-east England, where it has also been reintroduced into sites in Essex. It is absent from Wales, Scotland, Ireland, the Isle of Man and the Channel Islands. Although very local in its distribution, this butterfly can be seen in large numbers at some sites in good years. This butterfly is widespread on the continent and can be one of the commonest butterflies seen in some regions. This butterfly forms discrete colonies and rarely strays from the main breeding grounds.
Taxonomy Notes

Verity (1913b) uses ssp. britanna to describe the race found in the British Isles, based on a series taken in June in Tavistock, South Devon. This race is considered to have bands that are wider, more diffused and deep black.
Melitaea athalia
This species was first defined in Rottemburg (1775) as shown here (type locality: France, Paris).
History
The table below shows a chronology of vernacular names attributed to this species. Any qualification of the name (e.g. male, female) is shown in brackets after the name.
Conservation Status
This butterfly has suffered a long-term decline and requires targeted habitat management. This species continues to be a priority species for conservation efforts.
UK BAP Status
Occurrence Change
1976-2014 (%)
Abundance Change
1976-2014 (%)
Occurrence Change
2005-2014 (%)
Abundance Change
2005-2014 (%)
Priority Species
Click here to access the Biodiversity Action Plan (BAP) for this species.

| | |
| --- | --- |
| | -68 |

| | |
| --- | --- |
| | -87 |

| | |
| --- | --- |
| | -12 |

| | |
| --- | --- |
| | -79 |
The table above shows the occurrence (distribution) and abundance (population) trends, using information from The State of the UK's Butterflies 2015 (Fox, 2015). Any UK BAP status is taken from the UK Biodiversity Action Plan (UK BAP) (2007 review).
Habitat
Colonies in south west England are found on heathland, as well as on rich grassland. Those in south east England are found in woodland. Whatever the habitat, this species requires areas that are relatively-warm. This could be a patch of heathland that has recently been burned or a newly-coppiced clearing in a wood. The butterfly will readily colonise such areas, which resulted in it being given the name of "woodman's follower" as it colonises new clearings that have been created in a wood.
Woodland colonies tend to use Common Cow-wheat and Foxglove as the larval foodplant, whereas those on other sites tend to use Ribwort Plantain and Germander Speedwell.
Distribution
| | | |
| --- | --- | --- |
| | | Click here to see the distribution of this species or here to see the distribution of this species together with specific site information overlaid. |
Life Cycle
At sites in the west country, this butterfly emerges in late May, peaking in early June. The butterfly emerges in early June elsewhere, peaking toward the end of June. There is one generation each year.
The chart(s) above have been correlated with the phenology plot below, taken from the UK Butterfly Monitoring Scheme. The blue line gives average counts over the full data set from 1976 to date, and the red line gives the average for the last year.
Imago
This butterfly is very variable in terms of both the colour and the pattern of the wings. The male is the more conspicuous of the two sexes as it patrols clearings in search of a mate. They can be seen flying close to the ground alternating a few flicks of their wings with a short glide. The female has a much more laboured flight, weighed down by her load of eggs. Having found a suitable area, she will crawl around the vegetation before laying an untidy batch of up to 150 eggs. These are typically laid close to the foodplant on the underside of a Bramble leaf, or on a dead leaf. Both sexes can often be found in the company of others as they bask on shrubs.
Adults feed primarily on Bramble (Rubus fruticosus). Bugle (Ajuga reptans), Buttercups (Ranunculus spp.), Heather (Calluna vulgaris / Erica spp.), Knapweeds (Centaurea spp.) and Tormentil (Potentilla erecta) are also used.
Melitaea athalia
Ovum
Eggs are pale green when first laid, but soon turn pale yellow in colour. Eggs hatch in around 2 weeks.
Larva
On hatching, newly-emerged larvae eat their eggshells before moving together to the foodplant, where they spin a loose silk web on which they bask and from which they feed. The larvae eventually divide into smaller groups, creating new webs as required, before ultimately separating to find a curled up dead leaf within which to hibernate, although they may be found together in twos and threes.
The larvae emerge in the spring and recommence feeding and can be seen basking in full sun as they absorb the sun's rays, when their higher body temperature aids digestion. There are 5 moults in total.
The primary larval foodplants are Common Cow-wheat (Melampyrum pratense), Germander Speedwell (Veronica chamaedrys) and Ribwort Plantain (Plantago lanceolata). Foxglove (Digitalis purpurea) is also used.
Photo © Richard Roebuck
22-Mar-2012

Photo © Richard Roebuck
22-Mar-2012
1st Instar
Description to be completed.
2nd Instar
Description to be completed.
3rd Instar
Description to be completed.
4th Instar
Description to be completed.
5th Instar
Description to be completed.
6th Instar
Description to be completed.
7th Instar
Description to be completed.
Pupa
The pupa is formed among ground debris, attached upside-down to a dead leaf or twig. This stage lasts around 2 weeks.
Aberrations
Description to be completed.
Click here to see the aberration descriptions and images for this species.
Similar Species
The Glanville Fritillary and Heath Fritillary are easily distinguished in the British Isles since the Glanville Fritillary is generally only found on the Isle of Wight, with a small colony on the mainland, where Heath Fritillary do not occur. Where these two species do occur together on the continent, they are most easily distinguished from their undersides. The Glanville Fritillary has several spots on the underside that are not present in the Heath Fritillary.
Glanville Fritillary (left) and Heath Fritillary (right)
The spotting is also a distinguishing feature when looking at the upperside, where the Glanville Fritillary has spots on the upperside of the hindwing that are absent in the Heath Fritillary.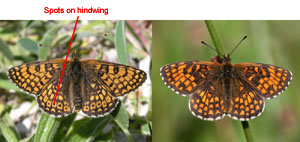 Glanville Fritillary (left) and Heath Fritillary (right)
Videos
Links
The following links provide additional information on this butterfly.
References
The species description provided here references the following publications:
| Reference | Details |
| --- | --- |
| Fabricius (1807) | Fabricius, J.C. (1807) Magazin für Insektenkunde, herausgegeben von Karl Illiger. |
| Harris (1766) | Harris, M. (1766) The Aurelian. Edition 1. |
| Newman (1871) | Newman, E. (1871) An Illustrated Natural History of British Butterflies. |
| Petiver (1695-1703) | Petiver, J. (1695-1703) Musei Petiveriani centuria prima-decima, rariora naturae continens. |
| Petiver (1717) | Petiver, J. (1717) Papilionum Britanniae Icones. |
| Rafinesque (1815) | Rafinesque, C.S. (1815) Analyse de la nature ou Tableau de l'univers et des corps organisés. |
| Rennie (1832) | Rennie, J. (1832) A conspectus of the butterflies and moths found in Britain, with their English and systematic names, times of appearances, sizes, colours, their caterpillars, and various localities. |
| Rottemburg (1775) | von Rottemburg, S.A. (1775) Der Naturforscher. |
| Verity (1913b) | Verity, R. (1913) Contributo allo studio della variazioni nei Lepidotteri. Bollettino della Societa Entomologica Italiana. |
| Wilkes (1749) | Wilkes, B. (1749) The English moths and butterflies: together with the plants, flowers and fruits whereon they feed, and are usually found. |