Introduction
The Dark Green Fritillary is the most widespread fritillary found in the British Isles and is a pleasure to see as it flies powerfully over its grassland habitats, frequently stopping to nectar on Thistles and Knapweed. It gets its name from the green hue found on the underside of the hindwings, which are peppered with large silver spots. This butterfly can be found throughout the British Isles, although it is less common in central and eastern England. Outside of central Scotland and southern England, it is most frequently found in coastal areas and is the only fritillary found in Orkney and the Outer Hebrides. Despite its powerful flight, it is somewhat surprising that this species is not particularly mobile, staying within its breeding grounds.
Taxonomy Notes

Historically, several authorities have referred to f. scotica, defined in Watkins (1923), that is not recognised in current taxonomy. This form differs from the nominate form in that individuals are larger in size have much heavier black markings on both upper and undersides, especially in the female, and the underside has a darker green flush, with more prominent silver spots on both fore and hindwings. Different authorities described different distributions of scotica. Dennis (1977) says "The most extreme development of the morph is found in the Outer Hebrides, especially on Pabbay (Barra group), south Rona, north Raasay and on Orkney. Subspecies scotica has also been described by Heslop-Harrison for Scalpay, Soay, Rhum, Eigg, Canna and Coll, but everywhere in addition to specimens showing extreme development, others transitional to aglaia are found". The most recent analysis is given in Thomson (1980). Riley (2007) suggests that this form is found in Scotland (apart from southern localities), Ireland (where it is the only form found) and the Isle of Man. However, Riley's inclusion of Ireland is questioned by Nash (2012) who assigns all Irish specimens to ssp. aglaja. Thomson (1980), Emmet (1990), Riley (2007) and Nash (2012) elevate the aglaja forms to subspecific status. The counties where scotica was thought to be found, as mentioned by Thomson (1980), are shaded green in the image below.
Argynnis aglaja
This species was first defined in Linnaeus (1758) as shown here (type locality: Sweden).
The nominate form is found throughout its range in the British Isles.
History
The table below shows a chronology of vernacular names attributed to this species. Any qualification of the name (e.g. male, female) is shown in brackets after the name.
Conservation Status
Although this species has declined considerably since the 1970s, especially in eastern England, the butterfly remains our most widespread fritillary and is not considered a priority species for conservation efforts.
UK BAP Status
Occurrence Change
1976-2014 (%)
Abundance Change
1976-2014 (%)
Occurrence Change
2005-2014 (%)
Abundance Change
2005-2014 (%)
Not Listed

| | |
| --- | --- |
| | -33 |

| | |
| --- | --- |
| | +186 |

| | |
| --- | --- |
| | +44 |

| | |
| --- | --- |
| | +18 |
The table above shows the occurrence (distribution) and abundance (population) trends, using information from The State of the UK's Butterflies 2015 (Fox, 2015). Any UK BAP status is taken from the UK Biodiversity Action Plan (UK BAP) (2007 review).
Habitat
The characteristic habitat of this butterfly is open, windswept calcareous grassland. However, in some areas it can also be found in woodland clearings and coastal dunes.
Distribution
| | | |
| --- | --- | --- |
| | | Click here to see the distribution of this species or here to see the distribution of this species together with specific site information overlaid. |
Life Cycle
Adults generally emerge in the middle of June, reaching a peak in early July. In northern Scotland, adults emerge a little later at the end of June, reaching a peak at the end of July and early August. There is one generation each year.
The chart(s) above have been correlated with the phenology plot below, taken from the UK Butterfly Monitoring Scheme. The blue line gives average counts over the full data set from 1976 to date, and the red line gives the average for the last year.
Imago
Both sexes are avid nectar feeders and typically feed in early morning or late afternoon, when they will constantly fly from flower head to flower head staying at each flower for only a few seconds. This behaviour makes them very difficult to observe and it is sometimes easier to find a favourite flower and wait for a butterfly to come to you!
The males are the more conspicuous of the two sexes, and can be seen patrolling over large areas of habitat looking for a virgin female which often rest low down in vegetation. Once found, mating takes place almost immediately. A mating pair may be found resting on vegetation and will even continue to nectar while coupled.
Females are somewhat-easier to see when egg-laying, where they intersperse periods of nectaring with basking and bouts of egg-laying, when they will crawl deep in vegetation, searching out the lushest growths of larval foodplant before laying a single egg, although several eggs are often laid in the same area.
Adults feed primarily on Thistles (Cirsium spp. and Carduus spp.). Carline Thistle (Carlina vulgaris) and Knapweeds (Centaurea spp.) are also used.
Argynnis aglaja
Ovum
Eggs are laid either directly on the foodplant, or on a suitable platform nearby, such as a twig, grass stem or dead leaf. Eggs are yellow when first laid but turn a dark purple after a few days and, eventually, a dark grey just before the larva emerges. This stage lasts between 2 and 3 weeks.
Larva
The larva eats the eggshell on hatching and immediately enters hibernation in a curled up leaf or other piece of debris. The larva emerges in the spring and starts to feed on the tenderest new growth of the foodplant, either eating large chunks out of the leaf lobes, or eating the leaf entirely with the stem left standing. The larva is most active during sunny periods and can often be seen wandering across bare ground or short turf in search of the foodplant. The mature larva has a distinct colouring, being mostly black with a feint yellow band running down its back and a series of red spots running down each side. There are 5 moults in total.
The primary larval foodplants are Common Dog-violet (Viola riviniana), Hairy Violet (Viola hirta) and Marsh Violet (Viola palustris).
1st Instar
Description to be completed.
2nd Instar
Description to be completed.
3rd Instar
Description to be completed.
4th Instar
Description to be completed.
5th Instar
Description to be completed.
6th Instar
Description to be completed.
Pupa
The larva creates a loose tent by drawing together several leaves and other pieces of vegetation together. The pupa is formed upside down, secured to the top of the tent by the cremaster. This stages lasts between 3 and 4 weeks, depending on the weather.
Aberrations
Description to be completed.
Click here to see the aberration descriptions and images for this species.
Similar Species
The Dark Green Fritillary and High Brown Fritillary are most easily distinguished by their undersides, since only the High Brown Fritillary has a row of "ocelli" just inside the outer margin. In addition, as the name suggests, the High Brown Fritillary has a predominately brown hue to the underside, whereas the Dark Green Fritillary is predominately green.
Dark Green Fritillary (left) and High Brown Fritillary (right)
It is much more difficult to distinguish the Dark Green Fritillary from the High Brown Fritillary based on their uppersides. However, the first row of dots from the outside edge of the forewing upperside do give a clue - the 3rd dot from the apex of the forewing is in line with the other dots in the Dark Green Fritillary, but indented toward the body in the High Brown Fritillary.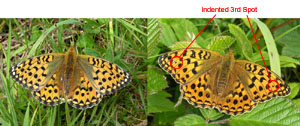 Dark Green Fritillary (left) and High Brown Fritillary (right)
Description to be completed.
Description to be completed.
Videos
Links
The following links provide additional information on this butterfly.
References
The species description provided here references the following publications:
| Reference | Details |
| --- | --- |
| Brown (1832) | Brown, T. (1832) The book of butterflies, sphinxes and moths. |
| Buddle (1700) | Buddle, Revd. A. (1700) [Herbarium, preserved in the Botany department of the Natural History Museum, London]. |
| Dennis (1977) | Dennis, R.L.H. (1977) The British Butterflies - Their Origin and Establishment. |
| Emmet (1990) | Emmet, A.M. and Heath, J. (1990) The Moths and Butterflies of Great Britain and Ireland. |
| Fabricius (1807) | Fabricius, J.C. (1807) Magazin für Insektenkunde, herausgegeben von Karl Illiger. |
| Harris (1766) | Harris, M. (1766) The Aurelian. Edition 1. |
| Haworth (1803) | Haworth, A.H. (1803) Lepidoptera Britannica. |
| Lewin (1795) | Lewin, W. (1795) The Papilios of Great Britain. |
| Linnaeus (1758) | Linnaeus, C. (1758) Systema Naturae. Edition 10. |
| Nash (2012) | Nash, D., Boyd, T. and Hardiman, D. (2012) Ireland's Butterflies: A Review. |
| Rafinesque (1815) | Rafinesque, C.S. (1815) Analyse de la nature ou Tableau de l'univers et des corps organisés. |
| Reuss (1926) | Reuss, T. (1926) Systematischer Überblick der Dryadinae T. Rss. mit einigen Neubeschreibungen (Lep. Rhopal). Deutsche Entomologische Zeitschrift. |
| Riley (2007) | Riley, A.M. (2007) British and Irish Butterflies: The Complete Identification, Field and Site Guide to the Species, Subspecies and Forms. |
| Swainson (1827) | Swainson, W. (1827) A Sketch of the Natural Affinities of the Lepidoptera Diurna of Latreille. The Philosophical magazine : or Annals of chemistry, mathematics, astronomy, natural history and general science. |
| Thomson (1980) | Thomson, G. (1980) The Butterflies of Scotland. |
| Watkins (1923) | Watkins, H.T.G. (1923) A new Argynnis Race. The Entomologist. |
| Wilkes (1742) | Wilkes, B. (1742) Twelve New Designs of English Butterflies. |