---
---
The High Brown Fritillary is a butterfly over which there is much concern due to a decline of over 90% since the 1970s. One cause of decline is believed to be the cessation of woodland coppicing, a practice which opens up new areas of suitable habitat that the butterfly is able to colonise once existing sites have become overgrown.
This butterfly is easily mistaken for a Dark Green Fritillary and the two often fly together, making a positive identification almost impossible unless the butterfly is at rest. The two species are most easily distinguished by their undersides, where the High Brown Fritillary has a row of brown spots between the outer margin and the silver spangles, which are missing in the Dark Green Fritillary. A less-reliable identification guide is that, as its name suggests, the High Brown Fritillary has a predominately brown hue to the underside, whereas the Dark Green Fritillary is predominately green. Once common and widespread in large woodlands in southern, central and north-west England and parts of Wales, this butterfly is now confined to sites in the Morecambe Bay area of north-west England, North Devon and South Devon (including Dartmoor), Exmoor in South Somerset, and a few sites in Wales.
Taxonomy Notes

Verity (1929) describes ssp. vulgoadippe for the subspecies occurring in Sweden, England and across to the Pyrenees and Austria, with a type from the New Forest. This subspecies differs in its dimensions, the intensity of the ground colour and the amount of green and red on the underside.
Argynnis adippe
This species was first defined in Denis & Schiffermüller (1775) as shown here (type locality: Vienna, Austria).
Adults emerge in the second half of June on southern sites, peaking in early July, but may not appear until early July further north, peaking a little later in mid-July. There is a single generation each year.

The chart(s) above have been correlated with the phenology plot below, taken from the UK Butterfly Monitoring Scheme. The blue line gives average counts over the full data set from 1976 to date, and the red line gives the average for the last year.
This butterfly can be found in suitably-managed woodland, although they soon disappear should the site become too overgrown, with no suitably-warm undergrowth remaining for egg-laying and larval development. The butterfly is also found on rough grassland, including grassland found on the edges of woods where there is sufficient light to promote growth of the violets. This species can also be found on limestone pavement, such as the colonies around Morecambe Bay, where violets grow between the cracks.
The primary larval foodplants are Common Dog-violet (Viola riviniana) and Hairy Violet (Viola hirta). Heath Dog-violet (Viola canina) and Pale Dog-violet (Viola lactea) are also used.
Adults feed primarily on Thistles (Cirsium spp. and Carduus spp.). Betony (Stachys officinalis), Bramble (Rubus fruticosus), Knapweeds (Centaurea spp.) and Thyme (Thymus polytrichus) are also used.
Both sexes fly powerfully and can be difficult to observe unless nectaring on Bramble or Thistle, or when resting low down on vegetation. Males will patrol wide areas of habitat when looking for a mate, and will investigate any brown object that might be a virgin female. Pairing typically takes place in late morning. Both sexes roost high in trees at night and in dull weather.
Females are often most-easily seen when egg-laying, when they flutter low over the ground in search of the larval foodplant. Sunny and sheltered sites are preferred and the female can be seen crawling in the dappled sunlight beneath vegetation close to the larval foodplant, before laying a single egg on a dead leaf, dead bracken frond or twig. Several eggs may be laid in the same area.
Description to be completed.
Click here to see a full list of aberrations for this species.
Unclassified Aberrations
Eggs are pink when first laid, but turn grey as the larva develops inside. The fully-formed larva remains in the egg through the winter.
On hatching the larva goes in search of its foodplant, initially feeding on the tenderest leaves, where it leaves characteristic notches in the leaf lobes. Larvae feed during the day and more mature larvae can be found basking in the sun, raising their body temperature to aid digestion. There are 5 moults in total and this stage lasts around 9 weeks.
The larva forms a loose tent-like structure by spinning a few leaves together, in which it pupates. The dark brown pupa is formed head down within this structure, attached by the cremaster, resembling a shrivelled leaf. This stage lasts around 3 weeks.
The Dark Green Fritillary and High Brown Fritillary are most easily distinguished by their undersides, since only the High Brown Fritillary has a row of "ocelli" just inside the outer margin. In addition, as the name suggests, the High Brown Fritillary has a predominately brown hue to the underside, whereas the Dark Green Fritillary is predominately green.
Dark Green Fritillary (left) and High Brown Fritillary (right)
It is much more difficult to distinguish the Dark Green Fritillary from the High Brown Fritillary based on their uppersides. However, the first row of dots from the outside edge of the forewing upperside do give a clue - the 3rd dot from the apex of the forewing is in line with the other dots in the Dark Green Fritillary, but indented toward the body in the High Brown Fritillary.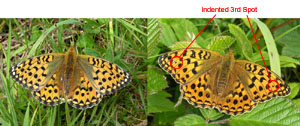 Dark Green Fritillary (left) and High Brown Fritillary (right)
Description to be completed.
Description to be completed.
Click here to see the distribution of this species overlaid with specific site information. Alternatively, select one of the sites listed below.
Aish Tor, Arnside Knott, Barkbooth Lot, Bircher Common, Blackadon, Cabilla Woods, Dart Valley, Dunsford, Dunsford Meadow, Gait Barrows, Heddon Valley, Hembury Woods, Hutton Roof Crags, Latterbarrow, Leighton Moss, Malvern Hills, Marsland Reserve, New Bridge, Old Castle Down, Warton Crag, Watersmeet, West Down, Whitbarrow Scar
Although there has been some recovery at sites which are specifically managed for this butterfly, the High Brown Fritillary is one of our most threatened butterflies whose numbers have plummeted since the 1970s, being extinct over 94% of its former range. Factors causing this decline include a reduction in coppicing practices, agricultural improvement, and lack of grazing and traditional forms of bracken management. This butterfly is therefore a priority species for conservation efforts.
The table above shows the distribution and population trends of species regularly found in the British Isles. The distribution trend represents a comparison between data for the periods 1995-1999 and 2005-2009. The information provided is taken from the Butterfly Conservation report The State of the UK's Butterflies 2011. The UK BAP status is taken from the UK Biodiversity Action Plan (UK BAP) (2007 review).
The following links provide additional information on this butterfly.
The species description provided here references the following publications:
Denis & Schiffermüller (1775)
Denis, J.N.C.M. and Schiffermüller, I. (1775) Systematischez Verzeichniss der Schmetterlinge der Wienergegend.
Duponchel (1835)
Duponchel, P.A.J. (1835) Histoire naturelle des lépidoptères ou papillons de France, par M. J.-B. Godart. Continuée par P.-A.-J. Duponchel. Diurnes. Supplément aux tomes premier et deuxième.
Fabricius (1807)
Fabricius, J.C. (1807) Magazin für Insektenkunde, herausgegeben von Karl Illiger.
Reuss (1920)
Reuss, T. (1920) Die Androconien von Yramea cytheris Drury und die nächststehenden analogen Schuppenbildungen bei Dione Hbn. und Brenthis Hbn. (Lep.). Entomologische Mitteilungen.
Swainson (1827)
Swainson, W. (1827) A Sketch of the Natural Affinities of the Lepidoptera Diurna of Latreille. The Philosophical magazine : or Annals of chemistry, mathematics, astronomy, natural history and general science.
Verity (1929)
Verity, R. (1929) Bulletin de la Société entomologique de France.
---