Introduction
The White-letter Hairstreak is one of our more-elusive butterflies as it flits high in the treetops, often appearing as a dark speck against the sky. It gets its name from the letter "W" that is formed from a series of white lines found on the underside of the hindwings.
Elm is the sole foodplant and this species suffered as a result of Dutch elm disease in the 1970s and early 1980s, especially in southern sites. All species of elm were affected and there was concern that this species of butterfly might become extinct in the British Isles as a result. Surviving colonies were subsequently looked for, to obtain a better understanding of the distribution of this species. Several new colonies were found which gave new hope for the future of this butterfly. In addition, there has been a concerted effort to find disease-resistant elms that exhibit the appropriate qualities to support this butterfly (such as flowering at the right time of year since young larvae generally rely on flower buds as a food source).
This butterfly forms discrete colonies which are sometimes very small containing only a few dozen individuals. Colonies are typically focused on a small clump of trees or even an individual tree. These butterflies are not great wanderers and will reuse the same site year after year. This butterfly is found throughout England, south of a line stretching between South Lancashire in the west and South Northumberland in the east. This species is found more locally in Wales, and is not found in Scotland, Ireland or the Isle of Man.
Satyrium w-album
This species was first defined in Knoch (1782) as shown here (type locality: Leipzig, Germany).
| | | | |
| --- | --- | --- | --- |
| Male | | Female | |
Conservation Status
This species is in serious decline and is therefore a priority species for conservation efforts.
The table above shows the distribution and population trends of species regularly found in the British Isles. The distribution trend represents a comparison between data for the periods 1995-1999 and 2005-2009. The information provided is taken from the Butterfly Conservation report The State of the UK's Butterflies 2011. The UK BAP status is taken from the UK Biodiversity Action Plan (UK BAP) (2007 review).
Habitat
This butterfly is never found far from its larval foodplant of elm, Wych Elm being preferred. Flowering elms are usually essential for successful larval development and this therefore suggests a certain maturity of tree, although there is some evidence that this species has successfully used non-flowering elms on occasion. Favourite sites are elms on the edge of deciduous woodland, but this species can also be found in more open habitat such as roadside verges if suitable elms are present.
Distribution
Click here to see the distribution of this species or here to see the distribution of this species together with specific site information overlaid. Alternatively, select one of the sites listed below.

Sites
Alexandra Park, Alner's Gorse, Attenborough Nature Reserve, Baggeridge Country Park, Ballard Down, Bannerdown, Barton Hills, Beachy Head, Bentley Wood, Bishop's Wood, Bourne Woods, Bovey Valley Woodlands, Brampton Wood, Broaks Wood, Brotheridge Green, Bunny Lane - Romsey, Bunny Old Wood Nature Reserve, Chaddesley Woods, Chambers Farm Wood, Church Wood, Cloud Wood, Croes Robert Wood, Devil's Ditch, Dolgoch Quarry, Downe Bank, Draycote Water, Earl's Hill, East Poldens Reserves, Ebbor Gorge, Eyarth Rocks, Fermyn Wood, Finemere Wood, Footscray Meadows, Forest Farm Meadows, Friday Woods, Gallow Hill, Grafton Wood, Hadleigh Country Park, Hayes Farm, Holkham Meals, Homefield Wood, Horsenden Hill, Hounslow Heath LNR, Langdon Reserve, Lathkill Dale, Launde Woods, Leftwich Meadows, Leigh Woods, Limekiln Wood, Loggerheads Country Park, Lord's Wood, Loshes Meadow, Maidenhead Thicket, Maldon Wick, Mattersey Wood, Meanwood Park, Mildenhall Woods, Monk's Wood, Narborough Reserve, Northward Hill, Peartree Common, Potteric Carr, Preston Park, Prior's Coppice, Redscar and Tunbrook Woods, Rhyd y Gaseg, Rivacre Valley, Roundhay Park, Rudge End Quarry, Stockbridge Down, Stow Maries Halt, Sydlings Copse, Thorndon Country Park, Ufton Fields, Weelsby Woods, West Middlesex Golf Club, Weston Big Wood, White Hill Reserve, Whiteley Pastures, Wigg Island, Willesley Wood, Witch Lodge Fields, Wyre Forest
Life Cycle
The adults emerge toward the end of June, building up to a peak in mid-July. There is one brood each year.

The chart(s) above have been correlated with the phenology plot below, taken from the UK Butterfly Monitoring Scheme. The blue line gives average counts over the full data set from 1976 to date, and the red line gives the average for the last year.
Imago
The adult butterflies are best seen early in the morning or late in the afternoon, when they will come down from their treetop resting place to nectar on various flowers, Thistle, Bramble and Privet being favourites. Most of the time, however, they remain elusive as they feed on honeydew in the tree tops. Like the Black and Green Hairstreaks, the adults never settle with their wings open.
When egg-laying, the female exhibits the same behaviour of many other hairstreaks, slowly crawling along twigs of the foodplant looking for suitable places in which to deposit her eggs.
Adults feed primarily on Honeydew / Sap. Bramble (Rubus fruticosus), Hogweed / Angelica (Umbelliferae), Marjoram (Origanum vulgare), Privet (Ligustrum vulgare), Ragwort (Senecio jacobaea) and Thistles (Cirsium spp. and Carduus spp.) are also used.
Ovum
Eggs are laid singly at all heights on elm trees and are a most-curious shape - a flattened sphere that has been compared to a flying saucer, with a flattened rim surrounding a central dome. It is typically laid on the scar that separates new and old growth and is green when first laid, but soon changes to a dark brown. The fully-formed caterpillar remains in the egg until the following spring.
Larva
The larva emerges in the spring by eating a hole in the top of the egg and, without eating the remaining eggshell, moves to a nearby flower bud where it feeds by burrowing its head deep within the tissues. The larva changes colour as it grows, always having excellent camouflage. It continues to feed on flower buds, leaving the bud scales intact, before gradually moving to young leaf buds and eventually mature leaves. The larva changes colour to a dull purple just prior to pupation.
The primary larval foodplants are English Elm (Ulmus procera), Small-leaved Elm (Ulmus minor) and Wych Elm (Ulmus glabra).
Pupa
The pupa is fastened to a leaf or stem by a silk girdle and the cremaster and is similar in colour to an elm bud. This stage lasts between 3 and 4 weeks.
Aberrations
Description to be completed.
This section shows those aberrations for which there is a corresponding image. Click here to see the descriptions of other aberrations for this species.
Unclassified Aberrations
ab. albovirgata
(Tutt.Brit.Lep.1907.9.p.149.pl.1.f.4.)
The four wings on the underside present a wide white band, which occupies on the hindwings the whole space comprised between the white line and the fulvous band. On the forewings it has an equal width.
Similar Species
Both Black Hairstreak and White-letter Hairstreak are very local species, but do fly together on rare occasions. There are two features that distinguish these species. The first is that the Black Hairstreak has a row of distinctive black dots running along the inside of the orange band on the underside of the hindwing, that is absent in the White-letter Hairstreak. The second is that the White-letter Hairstreak has a more pronounced white line on its hindwing, forming a letter "W" from which the White-letter Hairstreak gets its name. This line is less prominent in the Black Hairstreak.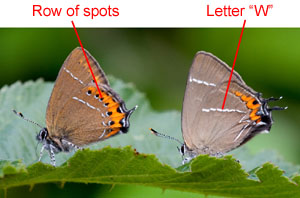 Black Hairstreak (left) and White-letter Hairstreak (right)
Videos
Links
The following links provide additional information on this butterfly.
References
The species description provided here references the following publications:
| Reference | Details |
| --- | --- |
| Butler (1869) | Butler, A.G. (1869) Catalogue of diurnal Lepidoptera described by Fabricius in the collection of the British museum. |
| Doubleday (1847) | Doubleday, E. (1847) List of the Specimens of Lepidopterous Insects in the Collection of the British Museum. |
| Knoch (1782) | Knoch, A.W. (1782) Beiträge zur Insektengeschichte. |
| Leach (1815) | Leach (1815) In Brewster: The Edinburgh Encyclopaedia. |
| Scudder (1876) | Scudder, S.H. (1876) Bulletin of the Buffalo Society of Natural Sciences. |