Introduction
The Small Pearl-bordered Fritillary is a delightful butterfly found in discrete colonies. Patrolling males can be seen flying a couple of feet from the ground, alternating a burst of rapid wing beats with a short glide, searching out freshly-emerged females in the surrounding scrub. The wing pattern, however, makes the adult butterfly difficult to follow in flight, it being much easier to observe this species when it is basking or nectaring on flowers of Bugle and other plants.
This butterfly, like the Pearl-bordered Fritillary, gets its name from the series of "pearls" that run along the outside edge of the underside of the hindwing. The two species may be seen together at certain sites, although the Pearl-bordered Fritillary emerges a couple of weeks before the Small Pearl-bordered Fritillary and generally appears much paler as a result. This strongholds of this species are found throughout much of Scotland and Wales, and in the north-western and south-western counties of England with scattered colonies elsewhere. It is absent from the Outer Hebrides, Orkney, Shetland, Ireland, the Isle of Man and the Channel Islands. This butterfly is found in discrete colonies containing anything between a couple of dozen and 100 adults at peak.
Taxonomy Notes

Freyer (1852) used the name f. selenia to describe the summer generation and, until recently, ssp. insularum was recognised, as defined in Harrison (1937), but is not present in current taxonomy. This subspecies was found in north-west Scotland in several islands that make up the South Ebudes, Mid Ebudes and North Ebudes and the adjacent mainland, reaching into parts of Argyllshire, West Inverness-shire, West Ross and West Sutherland. It is somewhat brighter in colour and markings, on both upper and undersides, than the subspecies selene. Ford (1945) questions its taxonomic status: "it is perhaps doubtful if it merits a distinct name". Dennis (1977) has a similar view: "It is allegedly brighter in colour and markings on both surfaces than English B. selene, with greater contrast on the undersurface. On this basis the writer finds them difficult to separate from series collected at high altitudes in north Wales".
Boloria selene
This species was first defined in Denis & Schiffermüller (1775) as shown here (type locality: Vienna, Austria).
The British population is represented by the nominate subspecies.
History
The table below shows a chronology of vernacular names attributed to this species. Any qualification of the name (e.g. male, female) is shown in brackets after the name.
Conservation Status
Despite some stability in the west and north, this species has suffered a long-term decline in both distribution and population. The cessation of coppicing in woodlands, which creates the right habitat for the adult and that encourages vigorous growth of the foodplant, is believed to be a primary cause of the decline. This species is therefore a priority species for conservation efforts.
UK BAP Status
Occurrence Change
1976-2014 (%)
Abundance Change
1976-2014 (%)
Occurrence Change
2005-2014 (%)
Abundance Change
2005-2014 (%)
Priority Species
Click here to access the Biodiversity Action Plan (BAP) for this species.

| | |
| --- | --- |
| | -76 |

| | |
| --- | --- |
| | -58 |

| | |
| --- | --- |
| | -25 |

| | |
| --- | --- |
| | +3 |
The table above shows the occurrence (distribution) and abundance (population) trends, using information from The State of the UK's Butterflies 2015 (Fox, 2015). Any UK BAP status is taken from the UK Biodiversity Action Plan (UK BAP) (2007 review).
Habitat
Most English colonies are found in open areas within deciduous woodland, such as woodland clearings. These colonies are generally small, consisting of a few dozen adults at most, and this butterfly is also relatively-sedentary with only a limited capacity for colonising new areas. Colonies in the north are also found in more exposed situations such as marshland and moorland. These are larger colonies of up to 100 individuals, typically spread across extensive areas of land and butterflies in these colonies are relatively-mobile as a result. In Cornwall, colonies occur on moorland and cliffs. At all sites damp areas are preferred, where the foodplants grow particularly vigorously.
Distribution
| | | |
| --- | --- | --- |
| | | Click here to see the distribution of this species or here to see the distribution of this species together with specific site information overlaid. |
Life Cycle
This butterfly first emerges in south-west England, where it may be seen from the beginning of May. This species emerges in the second half of May in other parts of England, and does not make an appearance in Scotland until June. The early emergence of the species in south-west England gives rise to a partial second brood there, which appears in August.
The chart(s) above have been correlated with the phenology plot below, taken from the UK Butterfly Monitoring Scheme. The blue line gives average counts over the full data set from 1976 to date, and the red line gives the average for the last year.
Imago
The male butterfly can be seen patrolling low over the breeding sites in search of a mate. When a virgin female is found, the pair quickly mate and generally remain hidden low down in vegetation. Egg-laying females are easy to follow as they flutter slowly and deliberately low down over vegetation, searching out suitable areas of foodplant on which to lay. Both sexes are avid nectar feeders, and can be seen at flowers of Bugle, Buttercup, Bird's-foot Trefoil, Wood Spurge, Ragged-robin and other plants.
Adults feed primarily on Bugle (Ajuga reptans). Bird's-foot Trefoil (Lotus corniculatus), Bluebell (Hyacinthoides non-scriptus), Buttercups (Ranunculus spp.), Dandelion (Taraxacum agg.), Hawkweeds (Hieracium/Hypochoeris), Heather (Calluna vulgaris / Erica spp.), Ragged Robin (Lychnis flos-cuculi), Thistles (Cirsium spp. and Carduus spp.), Thyme (Thymus polytrichus) and Wood Spurge (Euphorbia amygdaloides) are also used.
Boloria selene
Ovum
Eggs are laid singly and are initially straw-coloured, becoming grey prior to hatching. They are typically laid on the underside of a leaf of the foodplant, but may also be laid on surrounding vegetation. There is evidence that females will drop eggs while in flight, but only where the female has detected the presence of the foodplant. This stage lasts around 2 weeks.
Larva
The larva eats its eggshell on emerging and feeds by day. Unlike the larvae of its close cousin, the Pearl-bordered Fritillary, larvae of the Small Pearl-bordered Fritillary tend to avoid direct sunlight when not feeding. This makes them particularly difficult to locate, since they are never found basking on dead bracken or leaf litter. The larvae do, however, leave distinct crescents where they have fed on the heart-shaped leaves of their foodplant. After moulting for the third time, the larva enters hibernation, emerging in the spring to complete its growth. There are 4 moults in total.
The primary larval foodplants are Common Dog-violet (Viola riviniana) and Marsh Violet (Viola palustris).
Pupa
The pupa is formed head-down in leaf litter, attached by the cremaster. The stage lasts between 2 and 3 weeks.
Aberrations
Description to be completed.
Click here to see the aberration descriptions and images for this species.
Similar Species
The Pearl-bordered Fritillary and Small Pearl-bordered Fritillary are most easily distinguished by their undersides. Both species have a row of 7 white "pearls" running along the edge of the hindwing (hence their vernacular names). However, the remainder of the underside of the hindwing is quite different. The Pearl-bordered Fritillary exhibits 2 very distinct additional "pearls", whereas the Small Pearl-bordered Fritillary has a mozaic of white, oranges and browns and, as such, has the more colourful underside.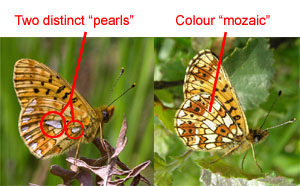 Pearl-bordered Fritillary (left) and Small Pearl-bordered Fritillary (right)
It is much more difficult to distinguish Pearl-bordered Fritillary and Small Pearl-bordered Fritillary based on their uppersides. However, there are two general differences. The first is with regard to the row of chevrons at the edge of the forewings. In the Pearl-bordered Fritillary, these chevrons are often "floating" and not attached to the outer margin, whereas these chevrons are attached to the edge of the forewing in the Small Pearl-bordered Fritillary. The second is with regard to the row of spots found next to these chevrons. In the Pearl-bordered Fritillary, each of these spots is positioned midway between neighbouring markings. In the Small Pearl-bordered Fritillary, the dots are not midway, but distinctly closer to the chevrons.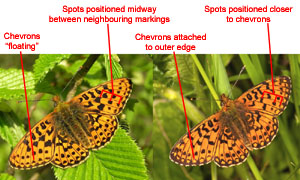 Pearl-bordered Fritillary (left) and Small Pearl-bordered Fritillary (right)
Videos
Links
The following links provide additional information on this butterfly.
References
The species description provided here references the following publications:
| Reference | Details |
| --- | --- |
| Denis & Schiffermüller (1775) | Denis, J.N.C.M. and Schiffermüller, I. (1775) Systematischez Verzeichniss der Schmetterlinge der Wienergegend. |
| Dennis (1977) | Dennis, R.L.H. (1977) The British Butterflies - Their Origin and Establishment. |
| Ford (1945) | Ford, E.B. (1945) Butterflies. |
| Freyer (1852) | Freyer, C.F. (1852) Neue Beitrage zur Schmetterlingskunde mit Abbildungen nach der Natur. |
| Harris (1766) | Harris, M. (1766) The Aurelian. Edition 1. |
| Harrison (1937) | Harrison, J.W.H. (1937) Rhapolocera on the Island of Scalpay, with an account of the occurrence of Nymphalis io on Raasay. The Entomologist. |
| Haworth (1803) | Haworth, A.H. (1803) Lepidoptera Britannica. |
| Jermyn (1824) | Jermyn, L. (1824) The Butterfly Collector's Vade Mecum: or a Synoptical Table of English Butterflies. |
| Lewin (1795) | Lewin, W. (1795) The Papilios of Great Britain. |
| Moore (1900) | Moore, F. (1900) Lepidoptera indica. |
| Rafinesque (1815) | Rafinesque, C.S. (1815) Analyse de la nature ou Tableau de l'univers et des corps organisés. |
| Ray (1710) | Ray, J. (1710) Historia Insectorum. |
| Rennie (1832) | Rennie, J. (1832) A conspectus of the butterflies and moths found in Britain, with their English and systematic names, times of appearances, sizes, colours, their caterpillars, and various localities. |
| Reuss (1920) | Reuss, T. (1920) Die Androconien von Yramea cytheris Drury und die nächststehenden analogen Schuppenbildungen bei Dione Hbn. und Brenthis Hbn. (Lep.). Entomologische Mitteilungen. |
| Samouelle (1819) | Samouelle, G. (1819) The Entomologist's Useful Compendium. |
| Swainson (1827) | Swainson, W. (1827) A Sketch of the Natural Affinities of the Lepidoptera Diurna of Latreille. The Philosophical magazine : or Annals of chemistry, mathematics, astronomy, natural history and general science. |
| Wilkes (1742) | Wilkes, B. (1742) Twelve New Designs of English Butterflies. |