---
---
The Dark Green Fritillary is the most widespread fritillary found in the British Isles and is a pleasure to see as it flies powerfully over its grassland habitats, frequently stopping to nectar on Thistles and Knapweed. It gets its name from the green hue found on the underside of the hindwings, which are peppered with large silver spots. This butterfly can be found throughout the British Isles, although it is less common in central and eastern England. Outside of central Scotland and southern England, it is most frequently found in coastal areas and is the only fritillary found in Orkney and the Outer Hebrides. Despite its powerful flight, it is somewhat surprising that this species is not particularly mobile, staying within its breeding grounds.
Argynnis aglaja ssp. aglaja f. aglaja
This species was first defined in Linnaeus (1758) as shown here (type locality: Sweden). The nominate form is found throughout its range with the exception of parts of Scotland and possibly parts of Ireland, as discussed under the form scotica.
Argynnis aglaja ssp. aglaja f. scotica
This form was first defined in Watkins (1923) (type locality: Lochinver, West Sutherland, Scotland). The exact distribution of the form scotica is uncertain and Dennis (1977) sums up the situation nicely: "Since this original description very little work has been done on the geographical extent of this subspecies, and then the majority of comments made are those of the late Professor Heslop-Harrison for the Outer Hebrides and the smaller northern islands of the Inner Hebrides. As a result it is known that variation both in size and in colour pattern is considerable, not only between different islands, but between different populations of the same island, where demes of typical specimens and of the extreme scotica morph are found separated by distance and somewhat inconsequential barriers of the terrain".
Given this backdrop, it is not not surprising that different authorities describe different distributions of scotica. Dennis (1977) says "The most extreme development of the morph is found in the Outer Hebrides, especially on Pabbay (Barra group), south Rona, north Raasay and on Orkney. Subspecies scotica has also been described by Heslop-Harrison for Scalpay, Soay, Rhum, Eigg, Canna and Coll, but everywhere in addition to specimens showing extreme development, others transitional to aglaia are found". The most recent analysis is given in Thomson (1980) and the distribution given here follows that work. Riley (2007) suggests that this form is found in Scotland (apart from southern localities), Ireland (where it is the only form found) and the Isle of Man. However, Riley's inclusion of Ireland is questioned by Nash (2012) who assigns all Irish specimens to ssp. aglaja. Clearly, more analysis needs to be done. Thomson (1980), Emmet (1990), Riley (2007) and Nash (2012) elevate the aglaja forms to subspecific status. The counties where scotica is to be found, as mentioned by Thomson (1980), are shaded green in the image below.
This form differs from the nominate form as follows:
1. It is generally larger in size.
2. It has much heavier black markings on both upper and undersides, especially in the female.
3. The underside has a darker green flush, with more prominent silver spots on both fore and hindwings.
Argynnis aglaja ssp. aglaja f. scotica (Watkins, 1923)

Differs from typical aglaia from Scandinavia in the larger size, much heavier black marking above and below in both sexes, the darker green of the underside, and greater prominence of the silver spots of both wings. The females are usually very dark, with whitish sub-terminal spots, the tawny ground-colour showing only on the disc of both wings, and extreme forms are practically wholly black.

Types male and female. Loch Inver, W.Sutherland, July 1921 (W.G.Sheldon), coll.Sheldon. Co-types of 3 male and 1 female, ibid., taken by [H.T.G.Watkins] Aug. 8, 1890, in Brit. Mus.Forms approaching the above occur occasionally in S. England, especially on the moister western side, and throughout Wales, the Lake District, and the West Highlands. A long series from the Horne Collection taken in Aberdeenshire and Kincardineshire are not on the whole so dark as the Loch Inver specimens. Mr. Sheldon's observations on the latter locality are recorded in vol.55, p.53, and Mr. F.J. Hanbury's of 1894 in the Ent. Mo. Mag., xxxi, p.4. I have purposely based the name on the Sutherland, as being furthest from the typical, form; but a series from even S.E.England differs very noticeably from a Scandinavian one.
Male


Male Underside


Female


Female Underside
Photo © Adrian Riley
Adults generally emerge in the middle of June, reaching a peak in early July. In northern Scotland, adults emerge a little later at the end of June, reaching a peak at the end of July and early August. There is one generation each year.
Argynnis aglaja ssp. aglaja f. aglaja
Argynnis aglaja ssp. aglaja f. scotica
The chart(s) above have been correlated with the phenology plot below, taken from the UK Butterfly Monitoring Scheme. The blue line gives average counts over the full data set from 1976 to date, and the red line gives the average for the last year.
The characteristic habitat of this butterfly is open, windswept calcareous grassland. However, in some areas it can also be found in woodland clearings and coastal dunes.
The primary larval foodplants are Common Dog-violet (Viola riviniana), Hairy Violet (Viola hirta) and Marsh Violet (Viola palustris).
Adults feed primarily on Thistles (Cirsium spp. and Carduus spp.). Carline Thistle (Carlina vulgaris) and Knapweeds (Centaurea spp.) are also used.
Both sexes are avid nectar feeders and typically feed in early morning or late afternoon, when they will constantly fly from flower head to flower head staying at each flower for only a few seconds. This behaviour makes them very difficult to observe and it is sometimes easier to find a favourite flower and wait for a butterfly to come to you!
The males are the more conspicuous of the two sexes, and can be seen patrolling over large areas of habitat looking for a virgin female which often rest low down in vegetation. Once found, mating takes place almost immediately. A mating pair may be found resting on vegetation and will even continue to nectar while coupled.
Females are somewhat-easier to see when egg-laying, where they intersperse periods of nectaring with basking and bouts of egg-laying, when they will crawl deep in vegetation, searching out the lushest growths of larval foodplant before laying a single egg, although several eggs are often laid in the same area.
Argynnis aglaja ssp. aglaja f. aglaja
Argynnis aglaja ssp. aglaja f. scotica
Description to be completed.
Unclassified Aberrations
Photo © Ken McHardy
06-Jul-2013

Photo © Ken McHardy
06-Jul-2013
Eggs are laid either directly on the foodplant, or on a suitable platform nearby, such as a twig, grass stem or dead leaf. Eggs are yellow when first laid but turn a dark purple after a few days and, eventually, a dark grey just before the larva emerges. This stage lasts between 2 and 3 weeks.
The larva eats the eggshell on hatching and immediately enters hibernation in a curled up leaf or other piece of debris. The larva emerges in the spring and starts to feed on the tenderest new growth of the foodplant, either eating large chunks out of the leaf lobes, or eating the leaf entirely with the stem left standing. The larva is most active during sunny periods and can often be seen wandering across bare ground or short turf in search of the foodplant. The mature larva has a distinct colouring, being mostly black with a feint yellow band running down its back and a series of red spots running down each side. There are 5 moults in total.
The larva creates a loose tent by drawing together several leaves and other pieces of vegetation together. The pupa is formed upside down, secured to the top of the tent by the cremaster. This stages lasts between 3 and 4 weeks, depending on the weather.
The Dark Green Fritillary and High Brown Fritillary are most easily distinguished by their undersides, since only the High Brown Fritillary has a row of "ocelli" just inside the outer margin. In addition, as the name suggests, the High Brown Fritillary has a predominately brown hue to the underside, whereas the Dark Green Fritillary is predominately green.
Dark Green Fritillary (left) and High Brown Fritillary (right)
It is much more difficult to distinguish the Dark Green Fritillary from the High Brown Fritillary based on their uppersides. However, the first row of dots from the outside edge of the forewing upperside do give a clue - the 3rd dot from the apex of the forewing is in line with the other dots in the Dark Green Fritillary, but indented toward the body in the High Brown Fritillary.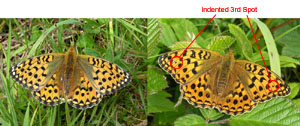 Dark Green Fritillary (left) and High Brown Fritillary (right)
Description to be completed.
Description to be completed.
Click here to see the distribution of this species overlaid with specific site information. Alternatively, select one of the sites listed below.
Aberffraw Dunes, Ainsdale Hills, Aldbury Nowers, Allt Dolanog, Allt Mhuic Nature Reserve, Ardley Quarry, Ardnamurchan Point, Arnside Knott, Badbury Rings, Baddoch Burn, Balkello Common Woods, Ballard Down, Ballyteigue Burrow, Balnaguard Glen, Banstead Woods, Barkbooth Lot, Beachy Head, Ben Lawers, Ben Vrackie, Bennar Dunes, Bicton Common, Big Wood, Birkhill forest, Birling Gap, Black Rock, Bloody Bridge, Bolt Head, Bovey Valley Woodlands, Box Hill, Brackett's Coppice, Braunton Burrows, Brean Down, Broughton Down, Burnmouth Coast SSSI, Butchershole Bottom, Buttler's Hangings, Caherconnell, Calstone Coombes, Cambus O'May, Cashel, Castlefreke, Cerne Hill Giant, Chinnor Hill, Cissbury Ring, Clatworthy Reservoir, Clubmen's Down, Cockey Down, Compton Down, Craigower Hill, Crook Peak, Cudden Point, Culbin, Dancersend, Deep Dale, Deepdale, Dinas Dinlle Sand Dunes, Drigg Dunes, Dunsford Meadow, Durlston Country Park, Durlston NNR, Eaglehead Copse, Earl's Hill, East Budleigh Common, East Prawle coast, Ellerburn Bank, Ettrick Haughlands, Eyarth Rocks, Fackenden Downs, Farley Mount Country Park, Fen Bog, Feshie Bridge, Finnamore Lakes, Fontmell Down, Forvie Sands, Frog Firle Farm, Gait Barrows, Glasdrum Wood, Glen Doll Forest, Glen Gour, Glenkinnon Burn SSSI, Gordon Moss SSSI, Great Orme, Great Torrington Commons, Greenlaw Dean, Gun Hill, Ham Common, Hangingshaw Burn, Havant Thicket, Headley Heath, Heddon Valley, Hembury Woods, Hod Hill, Holkham Meals, Holtspur Valley Reserves, Horsey Gap, Hutchinsons Bank, Hutton Roof Crags, Ivinghoe, Jerry's Hole, Jubilee Rifle Range, Kenfig Pool, Kilninian, Kingcombe Redholm, Lathkill Dale, Latterbarrow, Lauder Burn, Leighton Moss, Lindean Reservoir SSSI, Linn Dean, Loch an Eilean, Loch Ard Forest, Loch Fleet, Loch of Aboyne, Long Mynd, Lough Bunny, Lydlinch Common, Mabie Forest, Marsland Reserve, Martin Down, Moors Valley Country Park, Morrone Birkwood, New Bridge, Old Castle Down, Old Winchester Hill, Oxwich, Pamphill Moor, Parc Penallta, Penhale Sands, Pexton Bank, Polhill Bank, Prestbury Hill, Priddy Mineries, Ringstead Bay, Ross Links, Roudsea Wood NNR, Rubh' Arisaig, Saltbox Hill, Saltfleetby - Theddlethorpe Dunes, Seven Barrows, Sharpenhoe Clappers, Sheskinmore, Slievenacloy, Smardale Gill, South Stack Cliffs, St Abbs Head, St. Abbs Head to Fast Castle SSSI, St. Govan's Head, Stockbridge Down, Stoke Camp, Stony Green Hill, Stubhampton Bottom, Tentsmuir Point, Thornielee Forest, Townsend Quarry, Trosley Country Park, Ubley Warren, Umbra, Walton Common, Warburg Reserve, Warton Crag, Watersmeet, West Down, West Hook Cliffs, Whitbarrow Scar, White Hill Reserve, Whiteadder Reservoir, Whiteford Burrows, Whitlaw Mosses NNR, Windover Hill, Winterton NNR, Woodhall Dean, Yair Hill Forest, Ynys-Hir
Although this species has declined considerably since the 1970s, especially in eastern England, the butterfly remains our most widespread fritillary and is not considered a priority species for conservation efforts.
Not Listed
From The State of Butterflies in Britain and Ireland and the UK Biodiversity Action Plan (UK BAP) (2007 review).
The following links provide additional information on this butterfly.
The species description provided here references the following publications:
Dennis (1977)
Dennis, R.L.H.: The British Butterflies - Their Origin and Establishment. 1977.
Emmet (1990)
Emmet, A.M. and Heath, J.: The Moths and Butterflies of Great Britain and Ireland. 1990.
Linnaeus (1758)
Linnaeus, C.: Systema Naturae. Edn.10. 1758.
Nash (2012)
Nash, D., Boyd, T. and Hardiman, D.: Ireland's Butterflies: A Review. 2012.
Riley (2007)
Riley, A.M.: British and Irish Butterflies: The Complete Identification, Field and Site Guide to the Species, Subspecies and Forms. 2007.
Thomson (1980)
Thomson, G.: The Butterflies of Scotland. 1980.
Watkins (1923)
Watkins, H.T.G.: A new Argynnis Race. The Entomologist. 1923.
---
Site brought to you by Webified
Copyright © Peter Eeles 2002-2012
All rights are reserved
Administrator Login