Some very beautiful and interesting images recently Guy.
The Alpine Accentor is fantastic.
---
Thank you Buzzard, Goldie, David and Andrew. I think you're right, Goldie, that the small tortoiseshells on average have smaller spots here, but it's very variable. Accentors drop down to the valley for the winter but I don't think they breed there. It's just that there aren't many insects up in their usual haunts of 2000m or so at the moment!
The snow's been coming and going of late. It fell very heavily the other day, then we had a couple of days of high sunshine. Today was sunny but it was still only 2°C when I walked Minnie at lunchtime, with a stiff breeze making it feel colder. Two or three small tortoiseshells were flying on this bank, where the snow was melting:
Unfortunately (for the tortoiseshells), heavy snow is forecast until Sunday, but there is good weather coming after that. It's still winter - but a few things up out of bed for good now.
Guy
---
Only weeks to go before we start seeing similar sights (minus the snow) round here
Some addictions are good for the soul!
---
Cracking Small Torts again Guy - we just need the arctic blast that's forecast to disappear and we might stand a chance of finding our own UK ones
Absolutely brill shot of the Alpine Accentor - do they behave like Dunnocks?
Have a goodun
Wurzel
---
Posts: 1363
Joined: Sun Jul 24, 2011 6:23 pm
That picture of a small tort basking on a sunny but snowy slope is extraordinary By British standards but, as we now know, not so unusual for you there. We are now 6 7 weeks since the solstice, and the sun is getting higher and stronger as each week passes. Keep 'em coming!
---
Hi! Guy, Thanks for the info, I saw my earliest Small Tort on March 5th one year but the Winter here at the time had been quite mild, it's always the first butterfly we see here in the North, so not long to go now.
Goldie
---
Thanks Buggy, Wurzel, Buzzard and Goldie!
First sunny day for a while today, and lots of small tortoiseshells in the valley. I saw them not just in hotspots in the vineyards but generally throughout my walk. Just one Queen of Spain, chased to the edges of a hotspot by the bully tortoiseshells. But it was cold: 2°C when I arrived and 7°C when I left, with a wind making it feel colder.
Some tortoiseshells were in reasonably good nick:
Others were very tatty - much more so than usual at this time of year: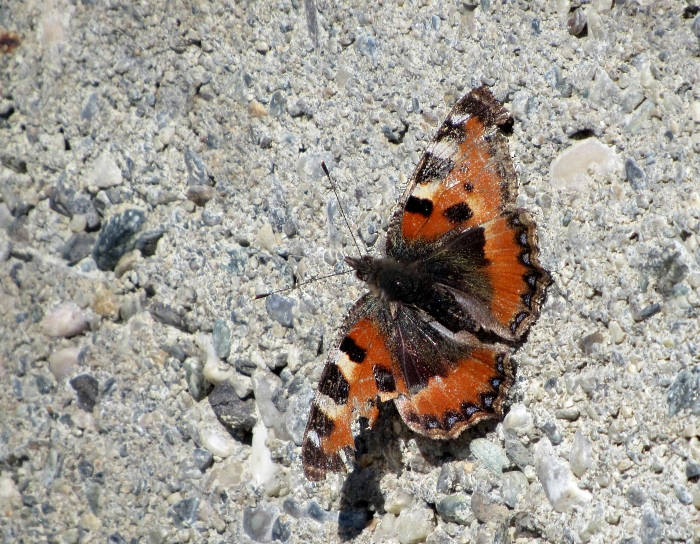 I wonder if storm Eleanor had something to do with this.
Here is a plump female, ready to lay soon, I imagine:
Lizards were everywhere:
Minnie has never successfully caught one (I'm glad to say) - not for want of trying:
I didn't have time to check the bulbocodium fields or the pasque flower banks but did find this pasque flower already in bloom at one of the Queen hotspots:
Guy
---
It's been tantalizingly close to seeing such sights down in the south east of the UK in recent days, well it was until today. I think I have a few weeks to go before I can stop relying on the likes of you to get my butterfly fix though
Some addictions are good for the soul!
---
---
Who is online
Users browsing this forum: No registered users and 0 guests