The butterfly season is definitely drawing to a close - even the Brown Hairstreaks at West Williamston are starting to look ragged!
With blue skies and 19C forecast I bagged the day off work today and arrived at the Pembrokeshire reserve just before 10.30am. For once, not a single cloud was present in the sky and although the wind was light to moderate, it was insufficient to deter what was a surprisingly good return of butterflies.
Red Admiral 10-15
Speckled Wood 10-15
Hedge Brown 8-12
Common Blue 8
Green Veined White 5-10
Large White 4
Small Tortoiseshell 4
Small Copper 3
Brown Hairstreak 3
Comma 2
Holly Blue 2
Peacock 2
Silver Washed Fritillary 2
Meadow Brown 1
I've never visited this site when the tide has been in, so it came as a bit of a shock to find the water almost encroaching on the path.
There were three people present in the little glade, including the Welshman I met there a week last Sunday, but apart from a brief tree top flight by a Brown Hairstreak, the only butterflies visible prior to 11am were a couple of Red Admirals and a faded Hedge Brown.
I took a walk up to the limestone ridge at the end of the site but saw only a couple of Holly Blues, so I returned to join the Welsh guy back in the glade who was now on his own.
Just after midday, I spotted a movement (actually thought it was a Comma) and a female BH flew into the clearing much to the delight of my companion who was seeing one at close quarters for the first time. She was a little ragged but still in the mood to lay an egg or two.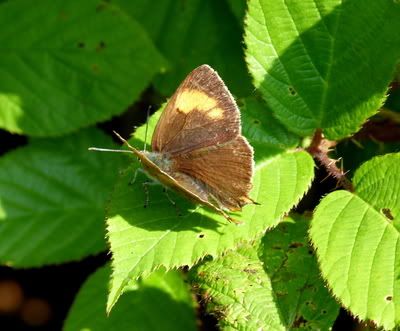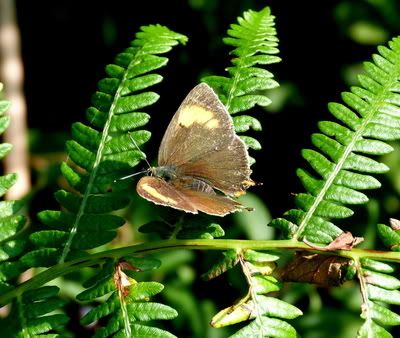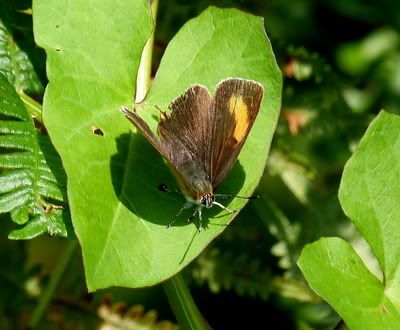 She disappeared after 10 minutes or so, and for the next hour we waited to see if there would be any more activity. A Small Copper aroused our interest, then a Comma. Eventually, as we were chatting, the same BH suddenly appeared right beside us on a blackthorn sucker no more than 60cm high.
Again, she soon disappeared, and at 1.45pm I decided to explore the fields at the entrance to the foreshore. There were several Common Blues flying about in this location, as well as a small number of Tortoiseshells, a few Whites and the odd Red Admiral and Peacock. There were also two Silver Washed Fritillaries, a species I've never seen in September previously.
In the final field before leaving the site, I disturbed another (very ragged) female BH. This is the first I've ever seen here outside of the glade and I decided to check a few of the blackthorn suckers. One of them had 5 eggs laid on it, including two side by side.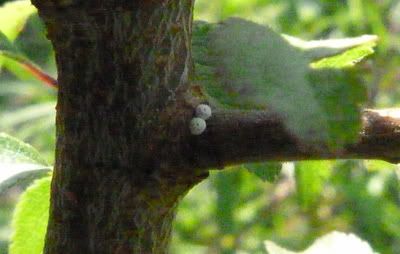 I noticed the clearing work that has been done in this area. Much of the old scrub has been cut down to encourage new growth and with it being in a sheltered dip, this could prove to make Brown Hairstreaks more easy to observe henceforth.