The large skipper was a surprise to me, too, David, though high browns regularly fly this late.
As for cardinals, they are just magnificent creatures. Still today, 22nd September, they were putting on a performance, though I visited the site only in the afternoon (about 15h00), when only females fly. So no open aggression and dog-fights - just aerial elegance!
Some of them are in fine shape, though visibly different in hue from the May butterflies. Above all, they have a metallic, refractive sheen that positively glows in the right light. These are the same individual:
This is a different female ...
... and this a third:
I only saw one individual with significant wing damage. It was about a kilometre from the main site, nectaring on Buddleia at the edge of a village:
I got surprisingly few glimpses of undersides: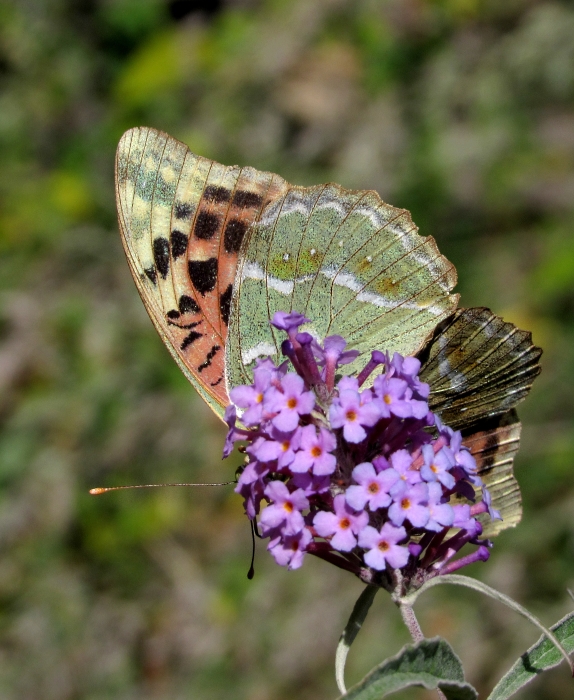 Before visiting the cardinals I spent some time further east along the valley. Here are a few pictures from there:
(rosy grizzled skipper)
(mallow skipper)
(Chapman's blue)
(chalkhill blue)
(Adonis blue)
(tree graylings)
(grayling - that individual in fact from the cardinal road, though they were flying further east too)
(tree grayling with meadow brown)
(presumed
artaxerxes
-
Aricia
is a bit of a mess here - all gradations of wing-shape and strength of markings)
(female spotted fritillary)
(male spotted fritillary - he seemed quite happy despite having just one antenna)
(Berger's clouded yellow)
It's been a cold September so far but clearly the butterfly season is not over yet.
Guy